GEFORCE RTX 3080
GPU Engine Specs:
NVIDIA CUDA® Cores
8704
Boost Clock (GHz)
1.71
Base Clock (GHz)
1.44
Memory Specs:
Standard Memory Config
10 GB GDDR6X
Memory Interface Width
320-bit
Technology Support:
Ray Tracing Cores
2nd Generation
Tensor Cores
3rd Generation
NVIDIA Architecture
Ampere
Microsoft DirectX® 12 Ultimate
Yes
NVIDIA DLSS
Yes
PCI Express Gen 4
Yes
NVIDIA® GeForce Experience™
Yes
NVIDIA Ansel
Yes
NVIDIA FreeStyle
Yes
NVIDIA ShadowPlay
Yes
NVIDIA Highlights
Yes
NVIDIA G-SYNC®
Yes
Game Ready Drivers
Yes
NVIDIA Studio Drivers
Yes
NVIDIA GPU Boost™
Yes
NVIDIA NVLink™ (SLI-Ready)
–
Vulkan RT API, OpenGL 4.6
Yes
HDMI 2.1
Yes
DisplayPort 1.4a
Yes
NVIDIA Encoder
7th Generation
NVIDIA Decoder
5th Generation
VR Ready
Yes
Display Support:
Maximum Digital Resolution (1)
7680×4320
Standard Display Connectors
HDMI 2.1, 3x DisplayPort 1.4a
Multi Monitor
4
HDCP
2.3
Founders Edition Card Dimensions:
Length
11.2″ (285 mm)
Width
4.4″ (112 mm)
Slot
2-Slot
Founders Edition Thermal Power Specs:
Maximum GPU Temperature (in C)
93
Graphics Card Power (W)
320
Required System Power (W) (2)
750
Supplementary Power Connectors
2x PCIe 8-pin
(adapter to 1x 12-pin included)
1 – 1 – Up to 4k 12-bit HDR at 240Hz with DP1.4a+DSC. Up to 8k 12-bit HDR at 60Hz with DP 1.4a+DSC or HDMI2.1+DSC. With dual DP1.4a+DSC, up to 8K HDR at 120Hz.
2 – Requirement is made based on PC configured with an Intel Core i9-10900K processor. A lower power rating may work depending on system configuration.
Note: The above specifications represent this GPU as incorporated into NVIDIA's reference graphics card design. Clock specifications apply while gaming with medium to full GPU utilization. Graphics card specifications may vary by add-in-card manufacturer. Please refer to the add-in-card manufacturers' website for actual shipping specifications.
ADDITIONAL FEATURES AND BENEFITS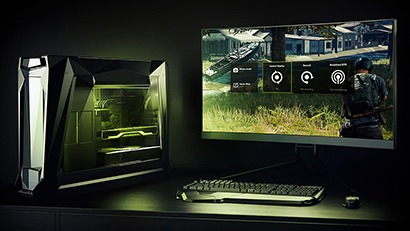 GEFORCE EXPERIENCE
Capture and share videos, screenshots, and livestreams with friends. Keep your drivers up to date and optimize your game settings. GeForce Experience lets you do it all. It's the essential companion to your GeForce graphics card.LEARN MORE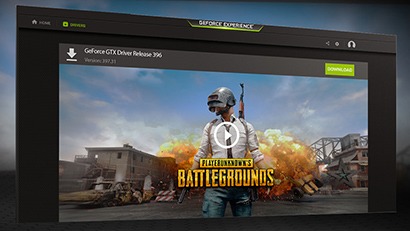 GAME READY DRIVERS
NVIDIA GeForce Game Ready drivers provide the highest level of performance and the smoothest experience possible, from the moment you start playing.LEARN MORE
DIRECTX 12 ULTIMATE
Developers can now add even more amazing graphics effects to Microsoft Windows-based PC games. GeForce RTX graphics cards deliver advanced DX12 features like ray tracing and variable rate shading, bringing games to life with ultra-realistic visual effects and faster frame rates.LEARN MORE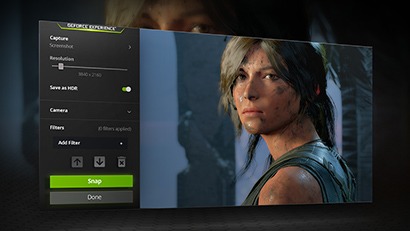 NVIDIA ANSEL
Turn your screenshots into art with NVIDIA Ansel, a powerful in-game photo mode that captures 360, HDR, and super-resolution photos.LEARN MORE
VIRTUAL REALITY
The highest performance graphics deliver the smoothest, most immersive VR experiences.LEARN MORE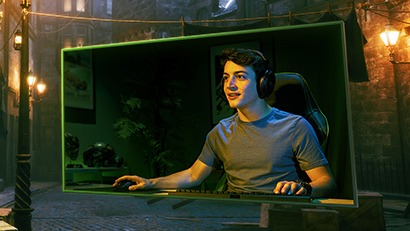 NVIDIA G-SYNC
Get smooth, tear-free gameplay at refresh rates up to 360 Hz, plus HDR and more. NVIDIA G-SYNC gaming monitors are the ultimate go-to equipment for enthusiast gamers.